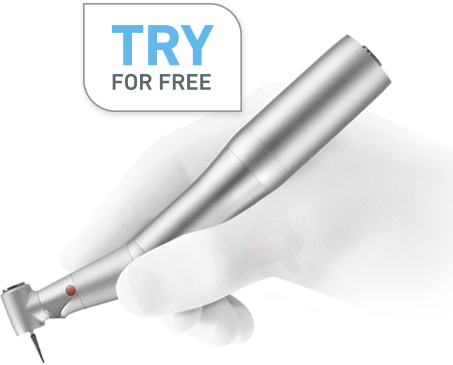 Bien-Air 7-day free trial program
Try our products for a week, free of charge, with no obligation to purchase.
You won't want to give them back!
Test it out at your practice.

The true test of a product comes when you use it under normal working conditions. This is the surest way of guaranteeing that you have selected the product best suited to your needs.

No obligation to purchase.

You can try out your product for seven days, free of charge. If you are not won over by it, simply send it back in its original packaging.

Exclusive conditions.

Satisfied with your trial period? You can purchase your product, taking advantage of a special discount and an additional year's warranty.
How to enjoy it?
1
Order
To receive your free trial product, please contact us by filling out the form below.
2
Test
You will receive your handpiece by mail and begin your 7-day trial within the comfort of your practice. No obligation to buy, simply send the handpiece back in its package.
3
Like
You like product and want to buy it. Take advantage of our special discount plus 1 year additional warranty (PlanCare extended warranty program for free)
This program is available in Switzerland, France (as of 01.01.2016), Germany, Italy, Spain, UK and USA only and applies to the Tornado turbine and EVO.15 1:5L only.
My order
Select your products available for a free trial
Complete your information