Aug 15, 2023
Discover our latest video!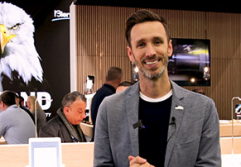 We're excited to present you the second video featuring Dr Kyle Stanley.
In this second episode, he shares his expectations in terms of product development within the dental industry.
And today, we live in a time of relentless innovation, where technology is pushing us to think differently and create new solutions.
But what's truly important for companies like ours, is to produce instruments that have a real impact, products that simplify the lives of dental practitioners. In this same context, hear an example of a technology that has impacted his career!
Also, we're delighted to have found a fan in the redesign of our stand at IDS 2023! ????
Watch his interview here. 
< Back to list