Aug 24, 2023
Discover the latest interview of Dr Kyle Stanley.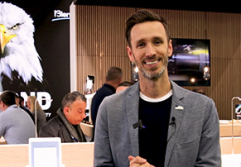 When it comes to dentistry, mental health isn't a topic that comes first to mind.
When we introduced you to Dr Kyle Stanley, we mentioned that he's a revolutionary dentist.
First, because he's at the forefront of a technology revolution with Pearl, his artificial intelligence company.
But not only.
He is the most prominent advocate and ambassador for mental health. He has helped countless dentists overcome burnout to help them achieve a sustainable career in dentistry.
A subject of tremendous importance, which is still too often overlooked. 
Watch the interview here. 
< Back to list