Aug 08, 2023
Introducing Dr Kyle Stanley.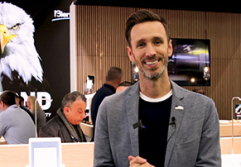 Introducing Dr Kyle Stanley.
If you don't already know him, he's the mastermind behind Pearl - an artificial intelligence company.
Over 4 episodes that you'll discover this month, he shared his fascinating journey and how his company is at the forefront of a technology revolution.
Giving us a glimpse into what could be considered as the future of dentistry, as his company is an incredible example of how we can use technology to bring more precise and efficient care to our patients.
As you get to know him, you'll discover such a revolutionary dentist in more ways than one!

Head here to discover his first interview.
< Back to list