Nov 01, 2023
Happy Brush Day!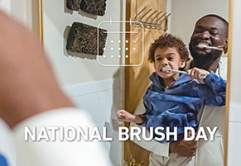 Today is National Brush Day!
This occasion is the perfect time to discuss the latest trends in brush technology.
From toothbrush heads that can detect plaque and bacteria to super soft bristles designed to protect enamel, we notice that the focus has definitely shifted to creating better brushing solutions.
And the dental community has made significant progress in developing brushes that ensure high standards of oral hygiene. These technological advances truly benefit us all as they become more efficient and sustainable.
It's perhaps never been more exciting to brush our teeth!
< Back to list