Sep 03, 2021
New Turbine Bora 2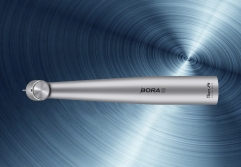 In 1991, an icon was born
Since then, the BORA turbine has continued to reaffirm the quality of its engineering and its high level of reliability, both of which have remained exemplary. It is now Bien-Air's bestselling turbine.
A 30-year history
Because of the trust you have placed in it, we wanted to ensure that this legacy continues. Bien-Air's engineers have excelled themselves in developing the new BORA 2.
the past speaks for itself; the future is guaranteed.
< Back to list