Jun 17, 2020
Efficiency of Spraynet®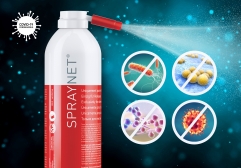 NAMSA® medical research organization tested the efficiency of Spraynet® for the reduction of biomass of two bacterial strains Pseudomonas aeruginosa, Staphylococcus aureus, as well as the fungus Candida albicans.

The tests performed consisted on applying on the dental devices artificial soil pre-inoculated with 107 CFU/mL of each microorganism according ISO 17664:2017 standard, then cleaning the dental devices in accordance with the procedures recommended by Bien-Air®.

The conclusion of this study was above 99,99% reduction in the microbial load.

[NAMSA® is a registered trademark of North American Science Associates, Inc.].
< Back to list